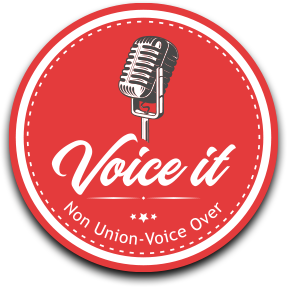 DISCOVER THE PERFECT VOICE FOR YOUR NEXT PROJECT
VOICE OVERS FROM JUST
$299
YOUR PERFECT VOICE AWAITS
WHO WE ARE
Voice it is a Canadian voice talent agency specializing in providing affordable voice overs. As a non-union agency, the talented voice over artists on our network each represent themselves. Our broad roster features professional Canadian and International voice talent of all ages and styles. But voice over is just the icing on the cake. We also provide our clients with scriptwriting & storytelling, translation, music production and animation services.
Let's bring your voice over project to life – together.
PRICING
OUR EASY VOICEOVER PRICING STRUCTURE MAKES WORKING
WITH US A BREEZE!
$299
Get a compelling script voiced of up to 450-words (equal to around 3-minutes of audio) from only $299. This includes commercial non-broadcasting use to promote your products or services on your corporate websites, and any non-paid advertising marketing channels. If your script requires more than one voice, please budget an additional $299 per voice talent per language.
$49
Each additional word-batch of 75-words or less (equal to around 30 seconds of additional audio) above the 450-word script is only $49.
From $499
This covers broadcasting rights if you intend on using the voice over to advertise your product or service via paid advertising marketing channels for local and national use (including TV, radio, and the internet).
PROJECT TYPE
WE PROVIDE EXCEPTIONAL VOICE OVERS FOR:
Explainer, Whiteboard & Animation Videos
TV & Radio Commercials
Business / Corporate Video
Internet Commercials
Documentaries
e-Learning /Educational
Web Videos
Movie Trailers
Narration
On-Hold Voicemail Greeting
Podcast Intro/Outro
Audiobook Narration
Character, Cartoon Voice Over
Station Sweepers / Identifiers
Phone System Messages
IVR – Integrated Voice Response
PRAM – Pre-Recorded Announcements and Music
Tutorials
Video Games
Voice Assistant Greetings and Material
Voicemail
YouTube Videos
…and more!
HOW DOES IT WORK?
AT VOICE IT, WE'VE MADE IT EASIER THAN EVER TO FIND THE PERFECT VOICE FOR YOUR PRODUCTION. HERE'S HOW OUR SIMPLE PROCESS WORKS:
STEP 1

CONTACT US
To kickstart the procedure, complete our quick and easy Contact Us form. Once we know more about your project, one of our Account Managers will be in touch to discuss your requirements in more detail. Based on your wishes, we'll send a proposal your way for approval.
STEP 2

The Voice Search
Happy with the proposal? Go ahead and feast your ears on the smooth sounds of our voice talent. Use our Voice Search feature to filter the language and gender you need.

Get down to specifics by choosing your desired Language, Gender, Age Range and Category.

Click the heart icon next to each voice talent to save your selection. We know decision-making can be tough, but you'll need to narrow down your search and cherry-pick your top 3 favorite voice talents for your project.
STEP 3

Book A Voice
Got your top 3? Fill out the "Book A Voice" form and try to share as many details as you can about your project. We'll then go ahead and start contacting your chosen voice talents to see which one is available to work on your project starting with your first choice. If he or she is unavailable, then we will reach out to your second and then your third choice.
STEP 4

Confirm the Voice Talent and Script
Made up your mind? Once you have your final script and know which voice talent you want for your project, we'll organize the recording and get your script voiced ASAP. Remember - we can only record with the final script. If there are script changes after the recording has been completed, we will gladly re-record for an additional fee.

Once it's a wrap, we'll send you the final voice file(s) in .MP3 format for your approval.
STEP 5

Final Approval
Happy with the sound of your project? Let us know!

Did we pronounce something wrong? Is anything slightly off? We'll fix our mistakes at no cost to you. Script changes aren't included here.

If there are script changes, this is classified as a paid revision. Speak to us to find out what additional fees apply.

Once you give us the thumbs up, we'll email you the final voice file(s) for instant download! Excited yet?
STEP 6

Payment
Ready to finalize the project?

Once you're 100% happy with your voice over and project, we'll send you the balance invoice for payment.
Commercial
Voice Over by Sheena M.
Commercial
Voice Over by Candice S.
Animation Video
Voice Over by Kleo H.
Commercial
Voice Over by Erika L.
COMPANIES OUR TALENTS HAVE VOICED FOR